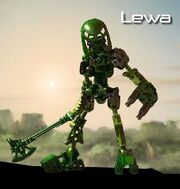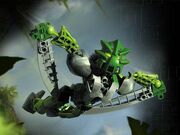 Storyline
Edit
Lewa is the funnest of the Toa mata. He was also best at moving quietly.
As a nuva, lewa supported the decision of breaking up the team.
As a phantoka lewa piloted the Axalara T9
Axe
"Lewa, mystery-king of know-nothingness. That's me!"
Lewa, Tale of the toa
Lewa was relesed as a Toa Mata in 2001. He could combine with Lewa and Kopaka to form Warhua.
He was again relesed in 2002 as a Toa Nuva, being able to combine with Gali Nuva and Kopaka Nuva to form Warhua Nuva.
He was relesed a third time as a Phantoka in 2008.
Later in 2008, he was relesed as a part of the Axalera T9.