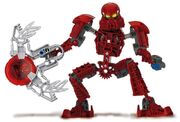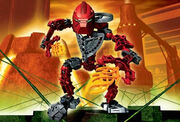 Storyline
Edit
Vakama worked as a mask maker in Metru-nui.
Toa metru
Edit
Toa vakama was the Toa metru of fire.
Hordika form
Edit
As a hordika vakama eventually would join the visorak, then later, he joins the hordika again.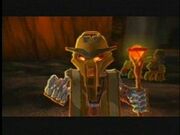 Vakama is currently a turaga.
As a toa vakama used an upgraded kanoka launcher
Then when he was mutated into a hordika he lost his mask power and gained 2 blazer claws
When he became a turaga he used a fire staff. It was considered a "badge of office".
Huna

"Toa aren't killers. If we were, we would have started with you."
Vakama,Time Trap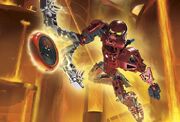 In 2004 Vakama was released as a toa and had 49 pieces
In 2005 Vakama was released as a hordika and had 48 pieces
In 2001 Vakama was released as a turaga and had 27 pieces